Subscribe
Market Analysis: Driver Shortage and the Economy
The combination of a driver shortage and a strong economy resulted in a capacity shortage in 2018 and TL contract rate increases. Throughout 2018, shippers sought to become "shippers of choice" and accepted higher contract rates. "When carriers make money, they buy trucks," and the Class 8 tractor market was very strong heading into 2019 as carriers added capacity and drivers. Many carriers also increased driver pay with some experimenting with driver salaries as a means to retain drivers. The top two charts reflect driver employment heading into the first quarter of 2019. Driver employment climbed at the end of 2018 but dropped in the first quarter of 2019. The American Trucking Association (ATA) driver turnover rate for large trucking companies with revenue exceeding $5 million fell to 78% in 4Q18, but increased to 77% for smaller trucking companies. The ATA has not released the turnover rates for the first quarter of 2019, but what should we expect for the remainder of 2019—for rates and driver turnover?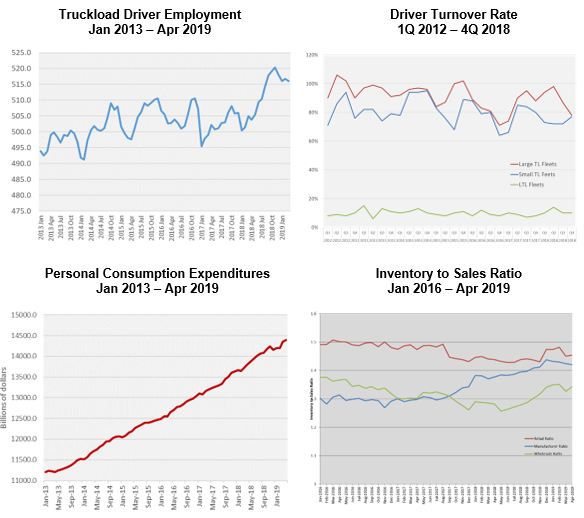 Freight volumes decelerated in the first quarter of 2019, and trucking rates dropped. The Cass Truckload Index indicates rates have fallen 2.5% since January but are still up 2.7% YOY. The weather and flooding have greatly contributed to the drop in freight volumes. As a result, many parts of the country did not experience demand for Spring or Summer products. With Spring demand not materializing, inventory levels have further climbed. The inventory-to-sales for the first four months of 2019 are up 2% for retailers and manufacturers and 6% for distributors. Cass further reports that contract rates (many negotiated in 2018) are now 30% higher than spot market rates. This situation has caused many analysts to revise downward their projections for TL rate increases in 2019. Shippers are frequently not honoring their contract bids with larger carriers and are shifting volumes on the spot market to smaller independent carriers.
The second half of 2019 may see a reversal in freight volumes and rates. Shippers will most likely attempt to reduce their inventories going into the school and holiday sales seasons. Personal consumption expenditures, although down for a few months earlier this year, have resumed their steady increase. These factors will increase demand for freight transportation. The spot market rates reported by DAT Trendlines and Truckstop.com's market demand index on June 15th, are similar to those by Cass through May with a downward trend; however, spot market rates are up sharply for the first two weeks of June indicating a possible reversal in the year to date trend.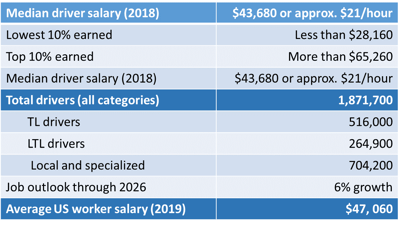 The ATA driver turnover statistics for 1Q19 and 2Q19 will likely show a moderate increase. The US economy grew 3.1% during the first quarter, well above the 2.3% threshold where the driver shortage has an effect on TL capacity. Larger carriers have focused on improving working conditions and pay for their drivers, and the effect of these efforts will likely extend through the first quarter and moderate turnover rates. Smaller carriers and independent owner-operators will likely benefit from the lower spot market rates and freight volumes increasing in 2H19. These smaller carriers will be able to provide their drivers with more miles and more pay which should cause turnover to moderately increase in the industry.
However, several major changes are looming on the horizon that have the potential to significantly reduce driver capacity and increase driver turnover in 2H19 and beyond. In January 2020, the FMSCA's drug clearinghouse takes effect which requires mandatory reporting and sharing of drug testing results. The clearinghouse will cause many drivers to leave the industry in advance of the reporting especially among smaller trucking companies. The reporting is also expected to further constrain the number of potential candidates for a CDL. Entry-Level Driver Training (ELDT) may have an even more significant impact by requiring a standard training program to obtain a CDL. The program which also takes effect in early 2020 is expected to increase the number of private training schools and the cost of driver training, decrease the number of government/community college training programs, and provide less flexibility to expand when the demand for drivers increase. Some changes to Electronic Logging Devices (ELDs) will also have an impact. Older automatic onboard recording devices will be phased out in December which will drive up costs and lower productivity for some smaller carriers. Rule changes will also affect the editing of ELD logs which will further reduce capacity.
The driver shortage and high turn-over rates have a direct impact on the supply chain. A carrier's cost to replace a driver is approximately $6,000. For a carrier with 200 tractors and drivers with the current 78% turnover rate, the cost is $936,000 per year assuming qualified, safe drivers can be found! For shippers, this cost is imbedded in the rates being charged by the carriers. High turn-over also means the likelihood of having a well-trained driver that has a relationship with the distribution center staff and more importantly their customer's receiving personnel is very low. The learning curve of working with a new driver adds cost and time to shipping and receiving operations.
Sources: Truckload Driver Employment: Bureau of Labor Statistics; Inventory to Sales Ratio: US Census Bureau; Driver Turnover Rates: compiled from quarterly press releases of the American Trucking Association; Cass Truckload Linehaul Index and Reference Material: Cass Information Systems; Personal Consumption Expenditures: US Census Bureau
Authored by Dr. Terrance Pohlen.
Terrance (Terry) Pohlen, PhD, is a professor of logistics and the Senior Associate Dean, College of Business, University of North Texas. He is the founding Director of the Jim McNatt Institute for Logistics Research and served for twelve years as the Director of the Center for Logistics Education and Research at UNT.