Subscribe
First Quarter 2019: A "Mixed Bag" of Economic and Logistics Indicators
The leading economic indicators for the first quarter of this year reflect a growing US economy but at a slower rate of growth than experienced in 2018. A widely used barometer of economic activity, The Conference Board's Leading Economic Index® has been falling since October but showed a slight increase (0.2%) in February to 111.5. The Conference Board attributes the improvement to a rebound in stock prices and the Federal Reserve signaling that it will postpone planned rate hikes.
The Institute of Supply Management's (ISM) purchasing managers index (PMI) is also a widely referenced leading economic indicator since it reflects planned purchases and production activity by a wide range of industries. The PMI peaked in August and has been reflecting a downward trend line since. The PMI increased from 54.2 in February to 55.3 in March, which is well above the benchmark of 50. Values greater than 50 signal growth while below 50 signal economic contraction. ISM attributes the increase to "continued expanding business strength, supported by gains in new orders and employment."
The two top charts illustrate how these leading indicators signal the arrival of a recession. The shaded areas reflect recessionary periods. Prior to a recession, these indicators have a sustained downward trend. The indicators will also provide an indication as to whether the economy has "turned" and begun to recover with higher indicies being reported and a sustained upward trend.
The expectation from the Conference Board and from the Federal Reserve is continued growth through 2019 but at a slower pace. Forecasts for US GDP growth range from 2.5 to 2.6 percent growth in the second quarter but between 2.3 and 2.4 percent overall for the year. Due to the slower rate of growth, the economy will most likely experience more fluctuations and "mixed signals" in many of the key economic indicators.
Two indicators of logistics activity reflect a similar slowdown in economic activity. The ATA Truck Tonnage Index experienced significant growth, 6.6% in 2018 due to the GDP growing at an annual rate of 3 percent. The truck tonnage index dropped by 0.2% in February and is expected to moderate for the foreseeable future due to slower growth, similar to the behavior of other economic indicators. Weekly intermodal volumes which correlate with GDP have also moderated and been tracking 1.6 percent below 2018 volumes. Rail volumes overall have been down this year with the exception of only petroleum and petroleum products. Although rail volumes are down, flooding in the Midwest has significantly impacted the BNSF and Union Pacific operations. The railroads have also been impacted by companies pulling their international purchases forward in 2018 to avoid potential tariff increases. Coal volumes have also been much lower. Rail volumes are expected to increase as the railroads resume normal operations, but they likely will not hit 2018 volumes, especially in intermodal which set an all-time record in 2018.
A similar pattern exists regarding recessionary periods. These logistics indictors tend to lag behind the leading economic indicators in identifying a recessionary period. However, a slowdown or downturn in volumes confirm an economic recession and demonstrate that freight volumes may take some time to recover until retailers sell off inventories and manufacturers receive new orders.
Going forward, the economic outlook appears stable with moderate growth. Transportation volumes should remain steady with overall increases slightly higher than overall GDP, especially in trucking and air freight, which is impacted by ecommerce volumes. The slowdown primarily reflects limitations imposed by labor and capital. The low unemployment rate reflects tightness in the labor market and worker productivity has not demonstrated growth in recent months. Increased capital investments will be required in equipment and technology to achieve productivity gains which could produce higher levels of economic growth in the future.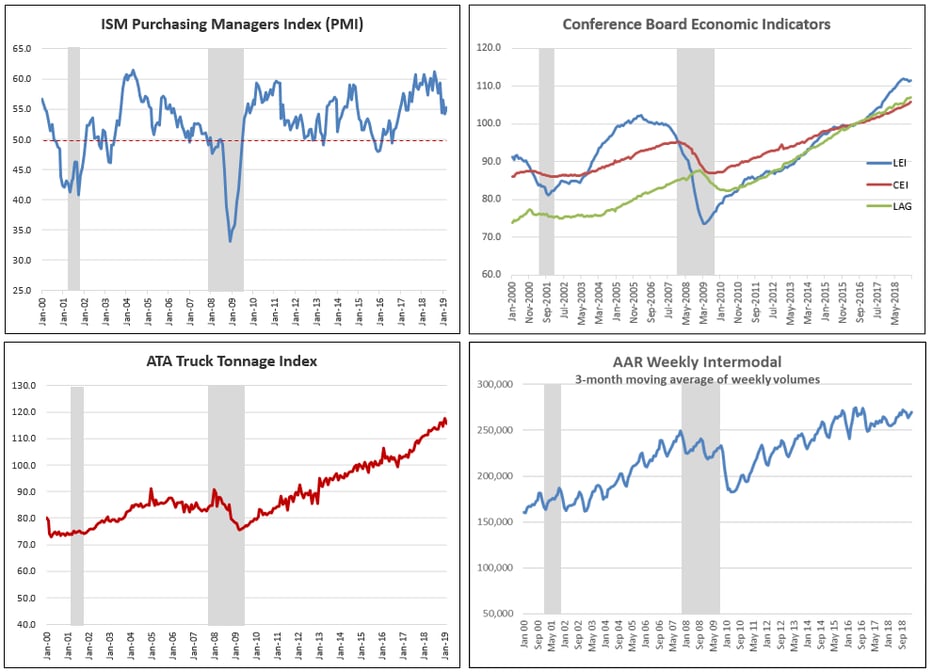 Authored by Dr. Terrance Pohlen.
Terrance (Terry) Pohlen, PhD, is a professor of logistics and the Senior Associate Dean, College of Business, University of North Texas. He is the founding Director of the Jim McNatt Institute for Logistics Research and served for twelve years as the Director of the Center for Logistics Education and Research at UNT.