Subscribe
Market Analysis: Trade Tariffs & Transportation
In addition to weather, trade and tariffs have had an effect on transportation volumes and a softening of the transportation market in the first quarter and into the second quarter. In anticipation of tariff hikes, manufacturers and distributors pulled requirements forward into 4Q 2018.

Trade with China has had a significant effect on imports and exports. In 2018, China was the United States' largest trading partner accounting for over 16% of total trade: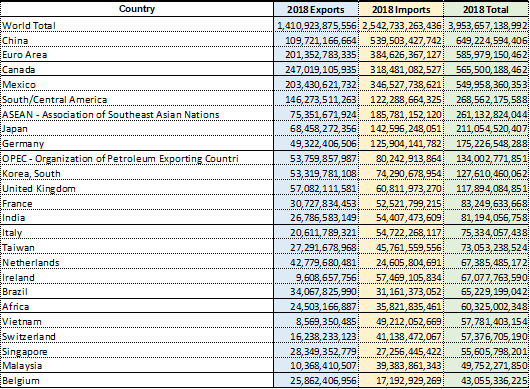 Trade between the United States and China has dropped considerably with the announcement of tariffs being imposed by bot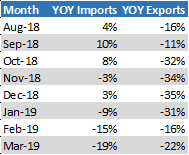 h countries. The table (to the left) shows YOY comparisons by month beginning in August 2018 through March 2019. Trade is off by over 20% on exports for the year and over 15% on imports.
Container volumes at west coast ports also reflect reduced trade and transportation volumes due to the tariffs being imposed. West coast port volumes are currently -3% YOY for the first quarter of 2019 with the ports of Los Angeles and Long Beach down -4% YOY. East coast port volumes are 5% YOY.
The reduced volumes do reflect some volume reductions due to the severe weather experienced throughout most of the United States during the first quarter, but the tariffs are definitely having an impact that has softened the transportation market in rail, international water, port volumes, and truckload. Due to China representing 16% of US trade, the market situation is likely to continue, and possibly worsen, until a trade agreement with China is reached.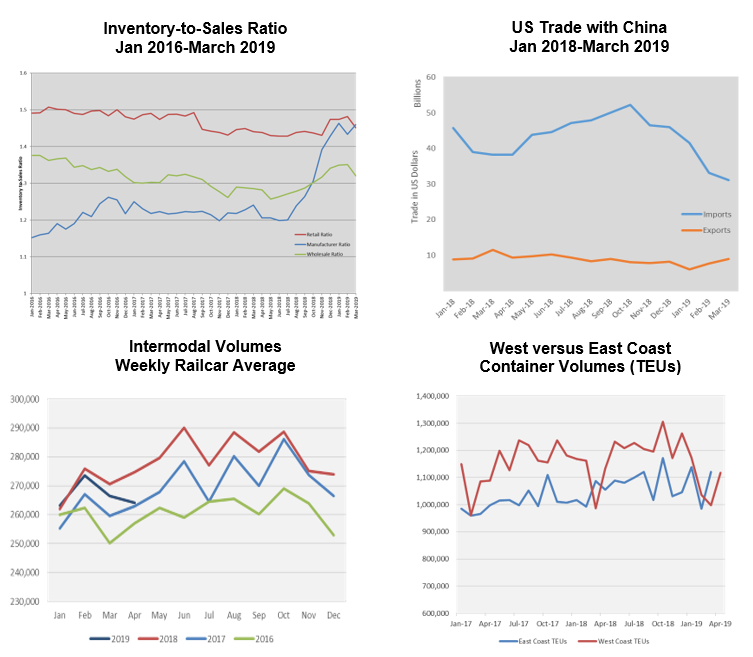 Sources: Inventory to Sales Ratio: US Census Bureau; East versus West Coast TEUs: Wolfe-Trahan; Intermodal Volumes: American Association of Railroads; US Trade with China: US Census Bureau—US TradeOnline
Authored by Dr. Terrance Pohlen.
Terrance (Terry) Pohlen, PhD, is a professor of logistics and the Senior Associate Dean, College of Business, University of North Texas. He is the founding Director of the Jim McNatt Institute for Logistics Research and served for twelve years as the Director of the Center for Logistics Education and Research at UNT.

This situation resulted in an increase in the inventory to sales ratio (see upper left chart) at the end of 2018 and into the first quarter of 2019. With the inventory build-up, inbound transportation volumes will likely remain soft until inventories are sold down. A similar situation occurred in intermodal rail volumes. The American Association of Railroads reported that 2018 set an all-time record for intermodal volumes. Instead of the usual drop-off in volumes in December, intermodal carloads declined only slightly as importers were pulling their purchases from China forward. Some of these volumes carried over into January, but intermodal has decreased YOY down -0.9% in February, -1.5% in March, and -3.9% in April.