Subscribe
Market Analysis: Transportation Volumes - Harbinger or a Recession?
Transportation and freight volumes have traditionally served as a leading indicator of economic activity. Freight volumes, particularly those in rail, began to fall in late 2007 and signaled the oncoming great recession. Another drop in 2016 signaled a manufacturing recession that was masked by the overall strength of the economy. As a result, the recent downward trends in freight volumes have been of particular concern.
The downward trend experienced since the beginning of 2019 was initially dismissed as tough comparisons with 2018 which was a very strong year for freight volumes. A variety of transportation indicators hit record levels including intermodal rail. In addition, the threat of trade wars caused many retailers to pull purchases forward in 4Q 2018 resulting in lower demand for 2019. The Spring brought considerable rain resulting in flooding of portions of the rail system and kept some shoppers from making their annual purchases for lawn and garden items. However, the downward trend has persisted despite low unemployment and very high consumer confidence.
Rail volumes have been on a consistent downward trend since the start of 2019. As of the week ending August 3, 2019, total rail traffic was down 3.5%. The only commodity with year-over-year (YOY) increases was petroleum and petroleum products. Chemical volumes are a key indicator of manufacturing activity, and although volumes were down more substantially earlier this year, the volumes are down only 0.3%. Intermodal which transports a large amount of consumer goods inbound from international sources is down 3.7%. Since 2018 was a record year for intermodal and the forward buying, these comparisons may not be the "signal" for the direction of the economy. The comparisons with 2017 (as shown in the top two charts) shows rail volumes are now tracking below the volumes experienced in 2017, both in rail cars and in intermodal.
International air freight volumes have also been consistently dropping in YOY comparisons. The drop in volumes reflects not only trade tensions between the US and China but the slowing economic activity in Europe. As with rail, international air freight volumes are consistently below 2018 and in several months below the volumes in 2017.
Domestic air has been a different story, but not by much. The domestic air freight market has largely been held up by the strength in ecommerce sales. Volumes steadily increased through 2017 and 2018. However, overall 2019 volumes have been only slightly ahead of 2018.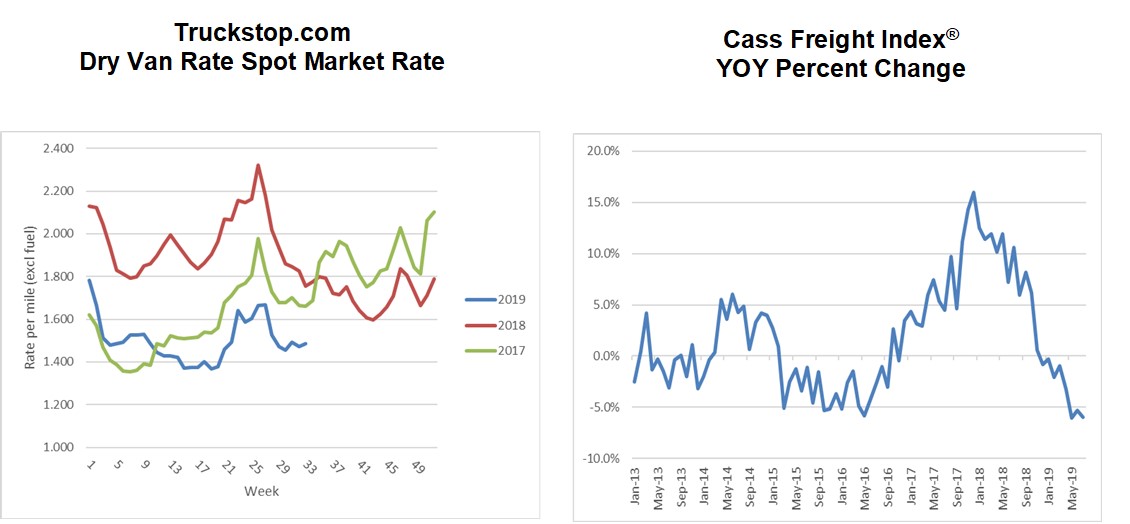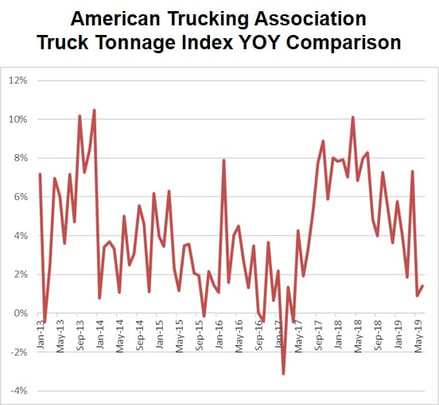 The truckload market also has been demonstrating weakened freight demand. The Truckstop.com spot market rate for dry van has fallen off considerably since the start of 2019 and is now below 2017 rates. Cass Information Systems also reported a consistent drop in their freight index® which has shown negative YOY trends through 2019. A YOY comparison for the ATA Truck Tonnage Index shows a similar downward trend beginning in 2019. (Note: both the Cass and ATA indices reflect a drop in 2016 when the US experienced a manufacturing recession—the strength of the overall economy masked the effect in manufacturing; however, the transportation network did experience a drop in freight demand).
These indicators clearly suggest that the transportation industry is experiencing a recession. Although YOY comps between 2018 and 2019 could possibly be explained away by the unique market circumstances last year, the comparisons with 2017 clearly demonstrate that freight volumes and the demand for freight have fallen off in 2019.
Under more "normal" circumstances, these indicators would clearly pointing toward a recession for the US economy. During the past two quarters, we have seen GDP drop from 3.1% in 1Q 2019 to 2.1% in 2Q 2019. With strong employment, strong consumer confidence and spending, and actions by the Federal Reserve, a recession does not appear imminent but very likely to occur in late 2020. The "unusual" circumstances are what could potentially happen in trade talks both with China and the possible passage of the USMCA treaty with Mexico and Canada. The ability to stimulate trade with our top three trading partners could have a substantial effect on the economy and produce a potential reversal. The last major factor is that with near full employment, the US does not have much opportunity to grow production or generate additional wages for consumption. Significant investments will be required to increase worker productivity and to increase wages to more highly qualified and skilled workers. At best, the economy appears to entering a period of continued but very low growth, and we can expect to see many "mixed" signals in the leading economic indicators.
Sources: Data used in this report has been compiled over time from periodic reports produced by the American Association of Railroads, the American Trucking Association, the International Air Transport Association, Truckstop.com, and Cass Information Systems. The Cass Freight Index is a registered trademark of Cass Information Systems.
Authored by Dr. Terrance Pohlen.
Terrance (Terry) Pohlen, PhD, is a professor of logistics and the Senior Associate Dean, College of Business, University of North Texas. He is the founding Director of the Jim McNatt Institute for Logistics Research and served for twelve years as the Director of the Center for Logistics Education and Research at UNT.