Subscribe
Market Analysis: Transportation Recession Continues Potential Outlook for 4Q 2019 & 1Q 2020
The transportation recession has continued into November, and the outlook for the fourth quarter of 2019 and first quarter of 2020 do not hold much promise for a recovery in transportation volumes. Truckload carriers have benefitted from sustained consumer demand and low unemployment, but other transportation modes continue to experience weakness in volumes resulting from the slowdown in manufacturing and the continuing trade negotiation with China.
US gross domestic product (GDP) continues to grow but at a slightly slower rate of 1.9% in the third quarter of 2019. Consumer spending largely contributed to the continued growth in the economy. The Federal Reserve further bolstered the economy by reducing the federal funds rate for the third time this year. For 2020, economic growth is projected to continue with most forecasts projecting 1.5 to 2.0 percent GDP growth, down from 2.3% growth in 2019. The rate of economic growth will largely depend on whether a combination of the slowdown in the manufacturing sector and continued trade negotiations with China have an effect on consumer employment, sentiment, and spending.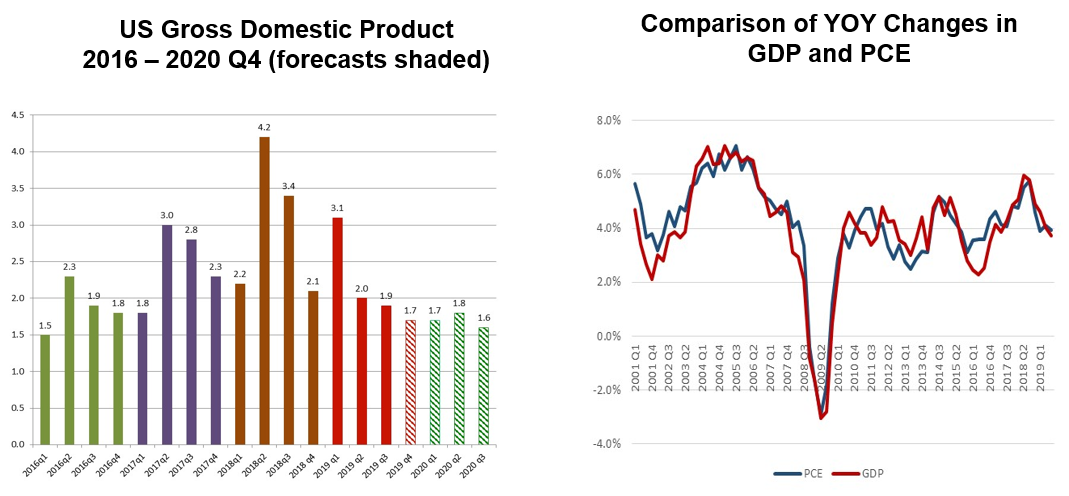 Consumer spending continued to sustain economic growth into the fourth quarter. Personal consumption expenditures (PCE) were 68% of US GDP and have been growing at a faster rate than the overall economy with a 4% growth rate. Consumer confidence continues to remain high due to near record low levels of unemployment, currently at 3.6% (the U-3 rate). The University of Michigan's report of consumer confidence was 95.5 in October. The October survey reported consumers currently do not expect any further declines in employment and anticipate that the economy will continue to experience slow but continued growth. However, consumer confidence no longer appears to be increasing and has begun to show a downward decline as indicated in the next set of charts.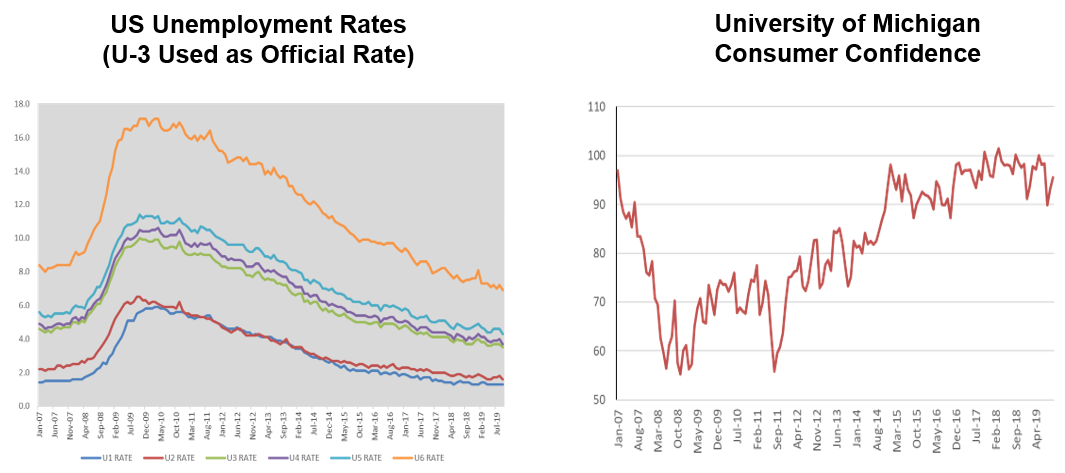 The truckload industry has benefited from low unemployment and strong consumer spending. The ATA truck tonnage index dropped slightly in October but continues to show year over year (YOY) improvement but appears to also be growing at a slower rate. While the truckload industry has benefitted, several analysts have pointed out that LTL carriers tend to be more closely linked to industrial customers, and LTL tonnage has been below 2018 levels in YOY comparisons. The Cass Freight Index® which captures North American freight volumes has exhibited negative YOY comparisons since December 2018 reflecting a slowdown in US manufacturing and transportation demand largely resulting from decreased international trade and the "trade war" with China.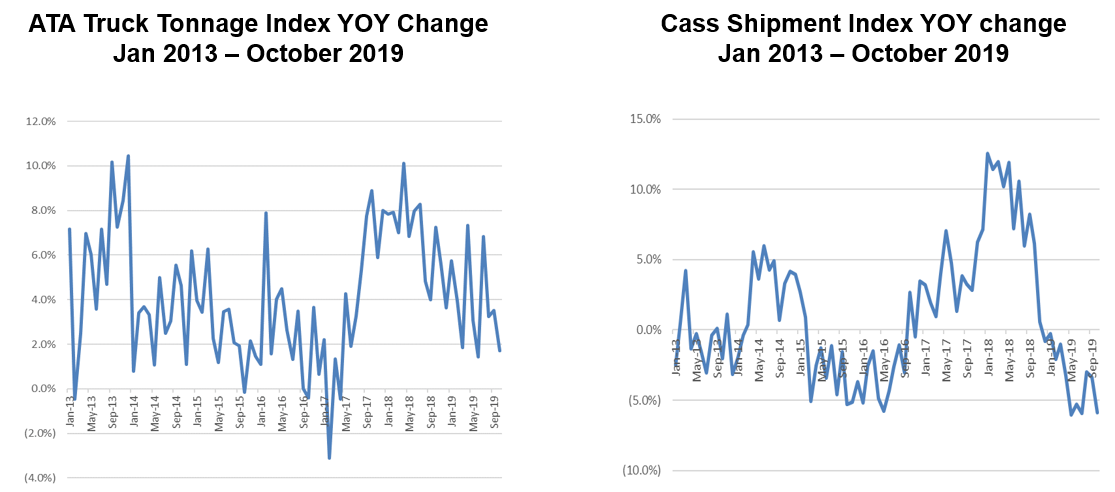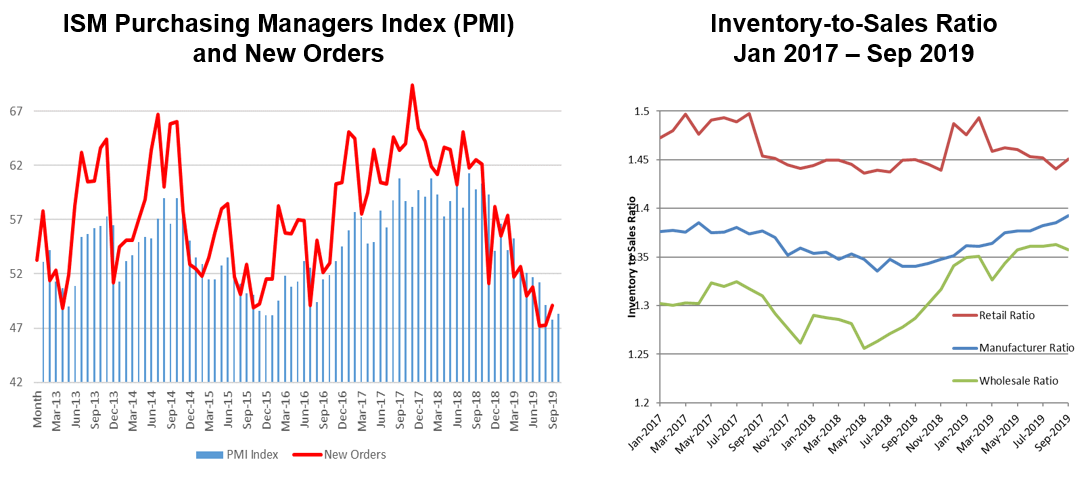 The Institute for Supply Management (ISM) purchasing managers index (PMI) is widely recognized as a barometer of manufacturing activity in the United States. Since July, the PMI has been below 50 indicating contraction in manufacturing activity. In September, the index slightly increased in September to 48.3 from 47.8 in August. New Orders also showed an increase to 49.1 from 47.3. The manufacturing sector continues to remain cautious regarding the timing of a new trade agreement with China.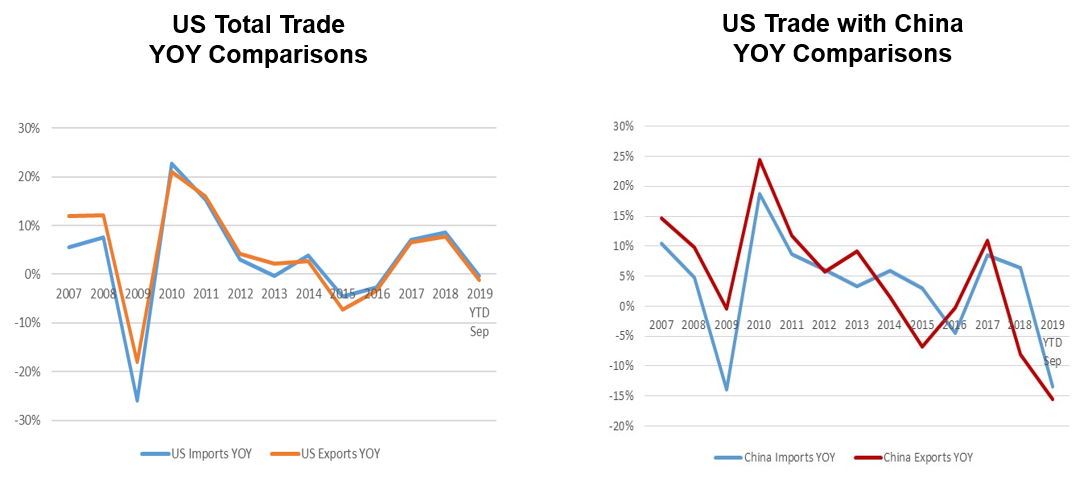 The "trade war" with China has had a significant effect on US trade and transportation volumes. Overall, US trade is nearly "flat" with 2018 volumes when compared on a YOY basis. Trade volumes through September 2019 showed 0% growth in imports and -1% growth in exports. However, trade with China is significantly down on a YOY basis through September. Imports are down over $50 billion or -13% and exports with China are down approximately $15 billion or -16%.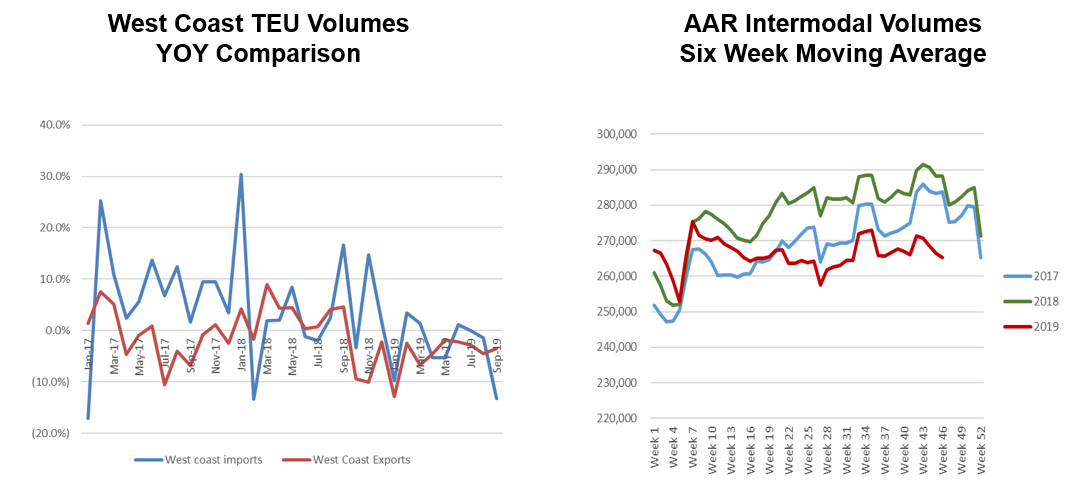 West coast imports and exports volumes clearly reflect the reduced trade with China. TEU volumes were down -12% overall for west coast ports with imports down -14% and exports down over 7%. Intermodal volumes have been significantly impacted by the reduced trade with China and the contraction in manufacturing. The railroads set a record for intermodal volumes in 2018 resulting from several factors including manufacturers and retailers pulling forward purchases in anticipation of trade tariffs with China; however, intermodal currently tracks well below 2017 volumes reflecting the underlying softness in US manufacturing.
Looking forward for the remainder of 2019 and into early 2020, the expectation is that things will remain pretty much the same—consumer confidence will continue to bolster the economy, and economic growth will continue but at much reduced rates. A trade agreement with China will eventually happen as the two largest trading partners in the world will need to reach an agreement; however, the major unknown is whether the agreement will have a positive effect on manufacturing. Trade uncertainty has caused manufacturing to pull back and take a very conservative posture. Uncertainty regarding the economy could result in a continued conservative stance that eventually has a negative impact on employment, consumer confidence, and spending. What most economists agree on is that the economy will continue to grow for the first two quarters of 2020, but beyond this point much depends on whether US and China can reach a trade agreement that stimulates manufacturing orders and investment, both in the US and abroad.
Authored by Dr. Terrance Pohlen.
Terrance (Terry) Pohlen, PhD, is a professor of logistics and the Senior Associate Dean, College of Business, University of North Texas. He is the founding Director of the Jim McNatt Institute for Logistics Research and served for twelve years as the Director of the Center for Logistics Education and Research at UNT.